Local SEO Seattle
Welcome to G3 Agency SEO Seattle! We are a search engine optimization company with a proven track record and are passionate about helping local businesses grow, especially in the city of Seattle.  I am George Penzenik, the founder of G3 Agency. As a Thought Leader in Information Technology since 1997, I have helped companies leverage technology to drive money straight to their bottom line by using Search Engine Optimization.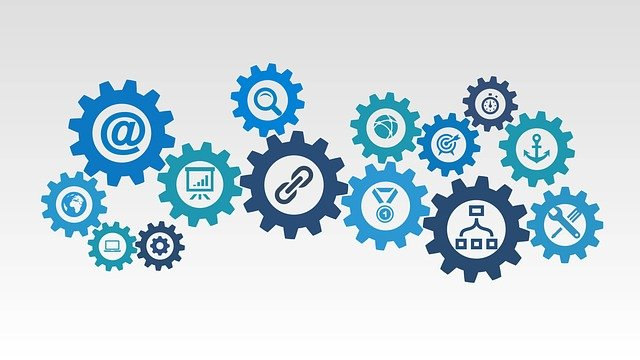 A few years ago, I decided that the best way to help local businesses grow was by improving their online presence using search engine optimization. My  #1 goal is to drive sales for my clients.  Results are the only thing that matter to me. You can receive all the fancy reports, but if you are not getting more leads and generating more business, nothing else matters.
Our Core Values
Every partner, employee, and associate at G3 Agency ascribes to our core values:
Work at something that you love and that is worthy of your time and talent.
Give people more than they expect and do it cheerfully.
Become the most positive and enthusiastic person you know
Treat everyone you meet and work with like you want to be treated.
Commit yourself to constant improvement.
Commit yourself to quality
Be loyal
Be honest
Be a self-starter
Be decisive, even if it means you'll be wrong sometimes.
Be bold and courageous.
Don't do anything that wouldn't make your mother proud
Contact us today if you want to work with an agency like ours and grow your business. We are proud to be a member of the SEO Community, helping companies to grow
Moving from Strings to Things – Search Entity Optimization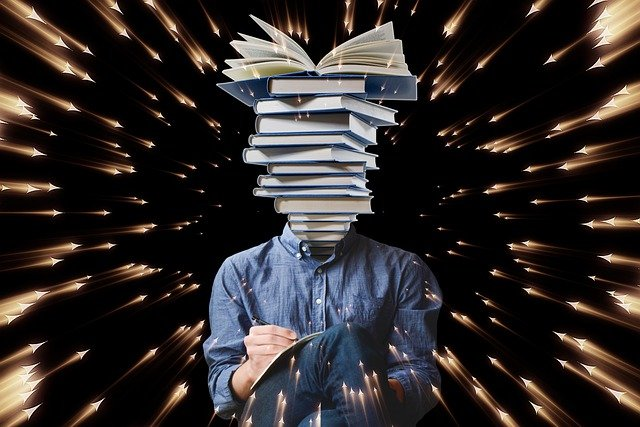 Google has moved beyond indexing a page based on single keywords (which is what used to happen). Its algorithms use closely related keywords to give context to content, especially when there is ambiguity.
Step back in time, and the Google search algorithm would look for references of a keyword on a page to determine the relevance to the query. Back to our example above, if your page is about credit cards, this keyword would be used to determine relevancy, and, in a simplistic form, the more mentions, the better.
However, this wasn't an accurate way to assess the relevance of a page and led to keyword stuffing and an obsession with keyword density and target keywords. The evolution of the natural language search engine to understand how semantically related words help define a topic better than the number of times a keyword is mentioned when people search
Enter the age of entities. So, what exactly is an "entity"? An entity is a thing with distinct and independent existence. Regarding Seattle SEO, an entity can be your Google My Business Listing (GMB), which is now your Google Business Profile (GBP), a knowledge graph, or a YouTube video. Entities can also be a complete collection of elements.  Let's look at a quick example and do a Google search for "David Bowie."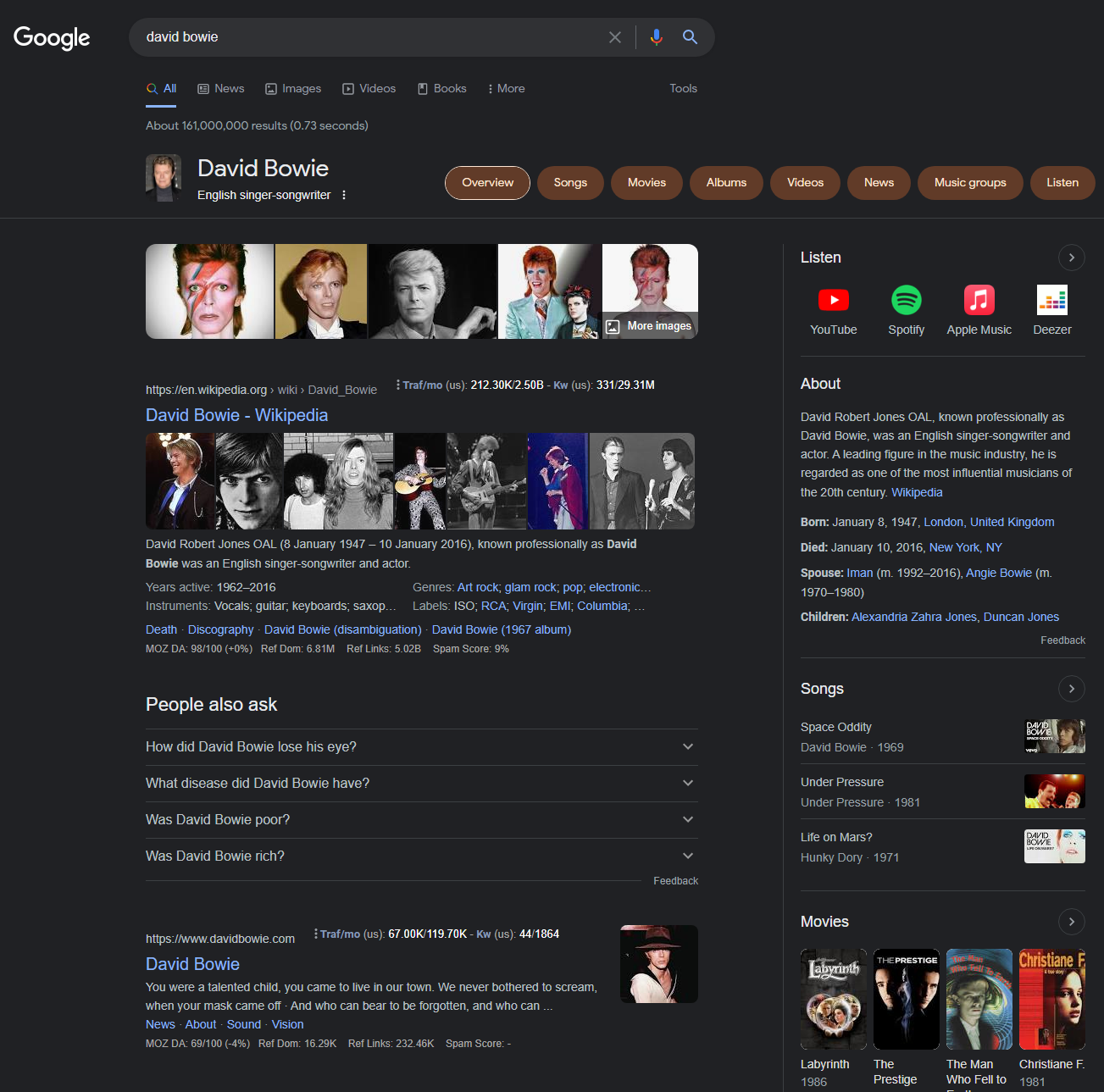 Google didn't just return a long list of where the string "David Bowie" appeared on webpages on the internet like it would have done in 1997; rather, it produced a variety of unique collections related to David Bowie, known as a knowledge panel. We didn't ask "what movies David Bowie appeared in, yet Google determined that David Bowie worked as an actor and appeared in several films. We didn't ask for "songs by David Bowie," yet Google sent us a list of songs on Spotify™ by David Bowie.
Your Business as an Entity
So, let's look at an example of a business as an entity and do a Google search for "Oracle." 
Like with our SEO Seattle search for "David Bowie," the search engine Google returned a collection of information about Oracle Corporation. If you are a contractor who does roofing repairs, the search engine Google search for your business may only produce one or two items. Maybe a link to your home page and a link to your Home Advisor listing.
SEO Seattle Strategies for the Twenty-Third Century
So now, with a basic understanding of an entity's ranking factors, how can you make your business ready for the search engine Google SEO in the twenty-third century using SEO services?
Content is King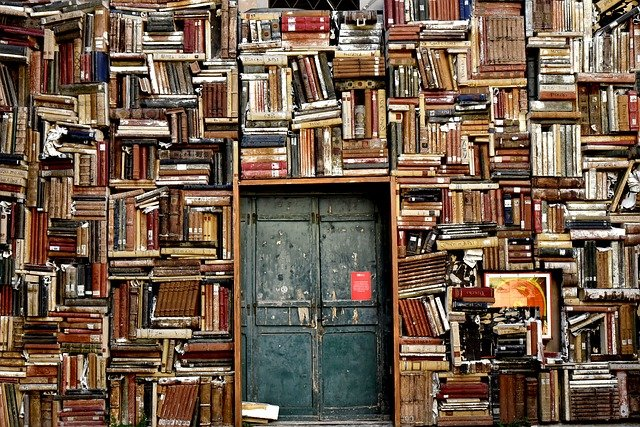 image content optimization helps Google direct searchers to entities that are subject matter experts on a subject it determines that a search is related to. The more high-quality content you have related to a particular topic, the more likely you will appear in searches and appear near the top. Google research has shown that 85% of all searchers don't go past Google search results page one. Natural language processing helps SEO work by allowing people to ask questions rather than think about what the search engine needs to give them relevant search results.
Rich Content is the Game Changer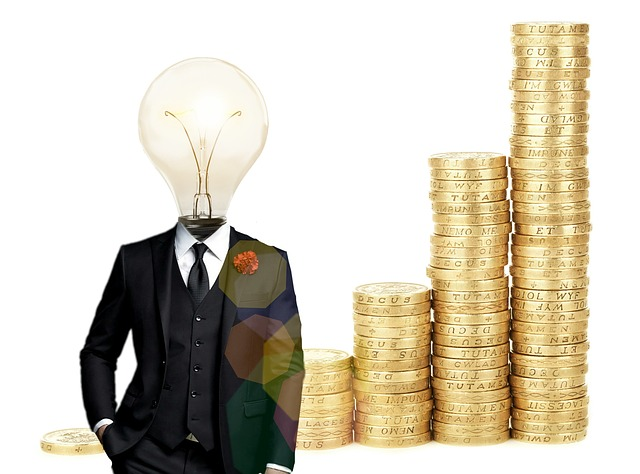 Beyond high-quality content, you want to have enough of it. In most cases, about ten thousand words of content should be created for each page or subject on your business website. You will want to have relevant images rich in information in the content. ALT meta tags designed with individuals who used web page readers also help Google search understand what the image is about on your website. Your ALT tags should be descriptive of what the image contains. The name of the image is also a key factor. An idea named "001.jpg" provides no additional information, unlike the same image whose name is "Seattle-SEO-google-search-results-for-oracle.jpg."
Your content's site structure or organization is another SEO strategy for SEO Seattle. Many web developers still think of and use H Tags to style headings when they should be used to help create a table of content for a page. Using a single H1 tag and H2, H3, and H4 meta tags helps major search engines like Google understand how your information is organized and affects search engine results.
Wrapping Up
Content, keywords, photo descriptions, and ALT text are just a few ways to help your Seattle SEO Google search results ranking. Your site alone will struggle to get noticed if you don't implement some basic modern SEO practices. We need to stop thinking about strings and keywords and start to focus on entities. People are on their phones daily, searching for goods and services. If they are not on their phones, they are on their desktops or tablets. The digital age is here, and information is flying through the internet every third. It doesn't stop. Your site must be optimized not for how searhing worked in 1997 but for how it works in the twenty-third century. Let SEO Seattle from G3 Agency move your online business presence into the modern age.
Your search for an honest and respectful SEO agency is over. We are a Seattle SEO company that is here to extend our services to you. We offer very competitive prices and deliver astounding results. We care about our customers and only want success for them. We are highly trained and skilled in SEO and will provide you with the steps necessary to ensure your site is crawled correctly and effectively by search engines. We know what works for all types of different niches. If you are interested in getting your business noticed, please do not hesitate to contact us.
We look forward to working with you and getting your business optimized for the modern internet.
 About G3 Agency
G3 Agency is a digital marketing agency helping website owners get more traffic by implementing search engine marketing techniques. We work with structured data to implement SEO best practices for major search engines. We provide content optimization to increase search rankings focusing on keyword optimization. Our link-building techniques drive more visitors from search engines combined with our search engine optimization tuned web development.
About Seattle, WA
Seattle ( (listen) see-AT-əl) is a seaport city on the West Coast of the United States. It is the seat of King County, Washington. With a 2020 population of 737,015, it is the largest city in both the state of Washington and the Pacific Northwest region of North America. The Seattle metropolitan area's population is 4.02 million, making it the 15th-largest in the United States. Its growth rate of 21.1% between 2010 and 2020 makes it one of the nation's fastest-growing large cities.Seattle is situated on an isthmus between Puget Sound (an inlet of the Pacific Ocean) and Lake Washington. It is the northernmost major city in the United States, located about 100 miles (160 km) south of the Canadian border. A major gateway for trade with East Asia, Seattle is the fourth-largest port in North America in terms of container handling as of 2015.The Seattle area was inhabited by Native Americans for at least 4,000 years before the first permanent European settlers. Arthur A. Denny and his group of travelers, subsequently known as the Denny Party, arrived from Illinois via Portland, Oregon, on the schooner Exact at Alki Point on November 13, 1851. The settlement was moved to the eastern shore of Elliott Bay and named "Seattle" in 1852, in honor of Chief Si'ahl of the local Duwamish and Suquamish tribes. Today, Seattle has high populations of Native, Scandinavian, Asian American and African American people, as well as a thriving LGBT community that ranks sixth in the United States by population.Logging was Seattle's first major industry, but by the late 19th century, the city had become a commercial and shipbuilding center as a gateway to Alaska during the Klondike Gold Rush.
Neighborhoods in Seattle, WA
Ballard, Queen Anne, Capitol Hill, West Seattle, Belltown, Pioneer Square, Columbia City, South Lake Union, Fremont, University District, First Hill, Phinney Ridge, Central District, Downtown Seattle, Laurelhurst, Delridge, Wallingford, Loyal Heights, North Seattle, Northgate, Beacon Hill, Ravenna, Green Lake, Interbay, Madrona, Alki, SoDo, Arbor Heights, Hillman City, Madison Valley, Licton Springs, Rainier Valley, Olympic Hills, Rainier Beach, West Woodland, New Holly, Denny Triangle, Eastlake, Squire Park, Cherry Hill, Mount Baker, Montlake, Lake City, Seward Park, Broadview, Wedgwood, Georgetown, Crown Hill, South Park, Sunset Hill, South Park, Hillman City, Seward Park, North Beacon Hill
Things To Do in Seattle, WA
Bus Stops in Seattle, WA to G3 Agency
Bus Stop in 5th Avenue South @ S. Dearborn St Seattle, WA to G3 Agency
Bus Stop in Greyhound: Bus Station Seattle, WA to G3 Agency
Bus Stop in Fairview Ave N & Harrison St Seattle, WA to G3 Agency
Bus Stop in 3rd Ave & Pike St Seattle, WA to G3 Agency
Bus Stop in 15th And Leary Northbound Bus Station Seattle, WA to G3 Agency
Bus Stop in 6th Ave S & S Royal Brougham Way Seattle, WA to G3 Agency
Bus Stop in Bus Stop Seattle, WA to G3 Agency
Bus Stop in 3rd Ave & Pike St Seattle, WA to G3 Agency
Bus Stop in Greyhound: Bus Stop Seattle, WA to G3 Agency
Bus Stop in Aurora Ave N & Denny Way Seattle, WA to G3 Agency
Bus Stop in 4th Ave & Union St Seattle, WA to G3 Agency
Bus Stop in FlixBus Seattle, WA to G3 Agency
Driving Directions in Seattle, WA to G3 Agency
Driving Directions from Search Engine Optimist to Seattle, Washington, United States
Driving Directions from Seattle Organic SEO to Seattle, Washington, United States
Driving Directions from Seattle Search Engine Optimist to Seattle, Washington, United States
Driving Directions from Seattle SEO Company FANNIT to Seattle, Washington, United States
Driving Directions from Seattle SEO Now | Digital Marketing | Web Designers to Seattle, Washington, United States
Driving Directions from SEO Seattle to Seattle, Washington, United States
Driving Directions from Spike Interactive Media to Seattle, Washington, United States
Driving Directions from Clarity Online SEO to Seattle, Washington, United States
Driving Directions from Exo Agency to Seattle, Washington, United States
Driving Directions from iLocal, Inc to Seattle, Washington, United States
Driving Directions from Visualwebz | Seattle Web Design | Website Designers | SEO | Digital Marketing to Seattle, Washington, United States
Driving Directions from Avidon Marketing Group - Seattle SEO to Seattle, Washington, United States